Halloween is just around the corner and this may be the scariest year yet, because many places are either cancelling or being told they can't do Halloween. While I'm not a huge Halloween fan, I know many people consider Halloween their favorite holiday. I feel for them and also for society, because when some people don't get their Halloween, they are going to riot. It's always funny when Halloween is around an election too, because the politics seem to get infused with the holiday. It will be interesting to see how it plays out this year.
Will people just use their typical masks as the costume? Will anyone get candy or will we be as afraid as when I was a kid when people were putting razor blades in candy? How many people will use poor taste and come as Coronviruses?
I don't even know if I want to answer any of these questions. Let's just pretend through Giftures that is just a typical Halloween and we are having a costume contest shall we…
This guy wins for the scariest…
How about this one gets…
This one is just here…
This one is just here to say…
This is how I feel when I wear a costume…
Who doesn't love…
Or when it takes 3 people…
You would think…
Just make sure to study up…
Make sure you…
Stay safe…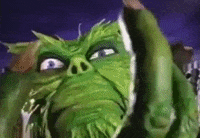 and…
Make sure you get out there and scare someone, creep them out, or find some mischief to get in. That's what All Hollow's Eve is all about.
ARRRRGGGHHHHHH
Bitter Halloween Ben