When Dwight Shrute of The Office was at Phyllis' wedding, he proclaimed, "There's too many people in this world. We need a new plague." I always agreed with him, and we finally found it. People are starting to realize that we don't need to be around each other as much as we thought, and it's forcing schools, companies, and stores to start cleaning more if they want people to come back.
I've seen more jobs created as cleaning people, new, faster ways of disinfecting things and more people are washing hands now than I've ever seen. On top of that, traffic has been better, and pollution has come down significantly. The best part of all, is that  introverts have risen up in recent months. The toxic humans around us has significantly declined, because we don't have to deal with big crowds, and if we ask for 6 feet of space around us, people have to comply. We hope for 7 to 10, but it is way more than the 6 inches we were way too uncomfortable with.
I just think more space= more clean. All along the introverts were right. Learn from us.
Now to create even more space between you and I, let's just get to the Bitter Friday Giftures.
See how much cleaner…
See what I mean…
Adam Sandler also agrees…
And can we finally acknowledge…
These heroes…
Schools…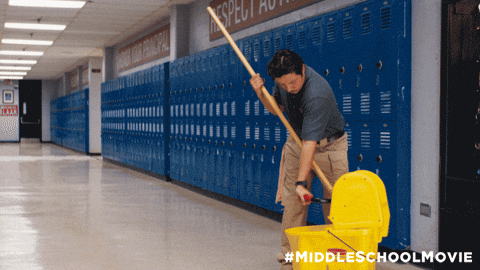 And workplaces…
Not to mention…
Or dads…
Or whoever…
Maybe it's time…
For everyone to just start permanently…
You dig? If you would have all listened to me years ago about keeping away from me and staying home on weekends and watching TV, you would have avoided this whole nasty year. I think it's time to start listening to our introverts.
ARRRRRRRGGGHHHHHHHHH
Bitter The World has never been so clean Ben